7 Reasons Why Any Business Should Use Autogram to Hire Candidates
Autogram was co-founded by alumnus of IIT Kharagpur and IIM A in 2017. It's easy to use video interviewing platform eliminates the initial screening processes like
Telephonic Interviews
Walk-in interviews
Initial screening in campus hiring
Large scale screening for BPOs, KPOs, Sales etc
Autogram has successfully reduced hiring pain for 40+ companies like Capital First Limited, Dabur India, Toppr, OYO Rooms, Lead School, Verzeo, Authbridge, IIFL, Edelweiss, Berger paints and many more.
Top reasons why any business should at least try this platform:
1. Great Candidate Experience
If you're concerned about creating a great candidate experience – and, really, every recruiter should be – then check out Autogram. The platform prioritises candidate experience, and by offering candidates plenty of support, flexibility, and control over the application and interview process, it delivers. Even if you don't hire a candidate, they'll walk away thinking highly of your company if you use Autogram: In a survey of more than 35,000 candidates, 98 percent of respondents said they thought employers that used Autogram's platform were "innovative" and exciting places to work.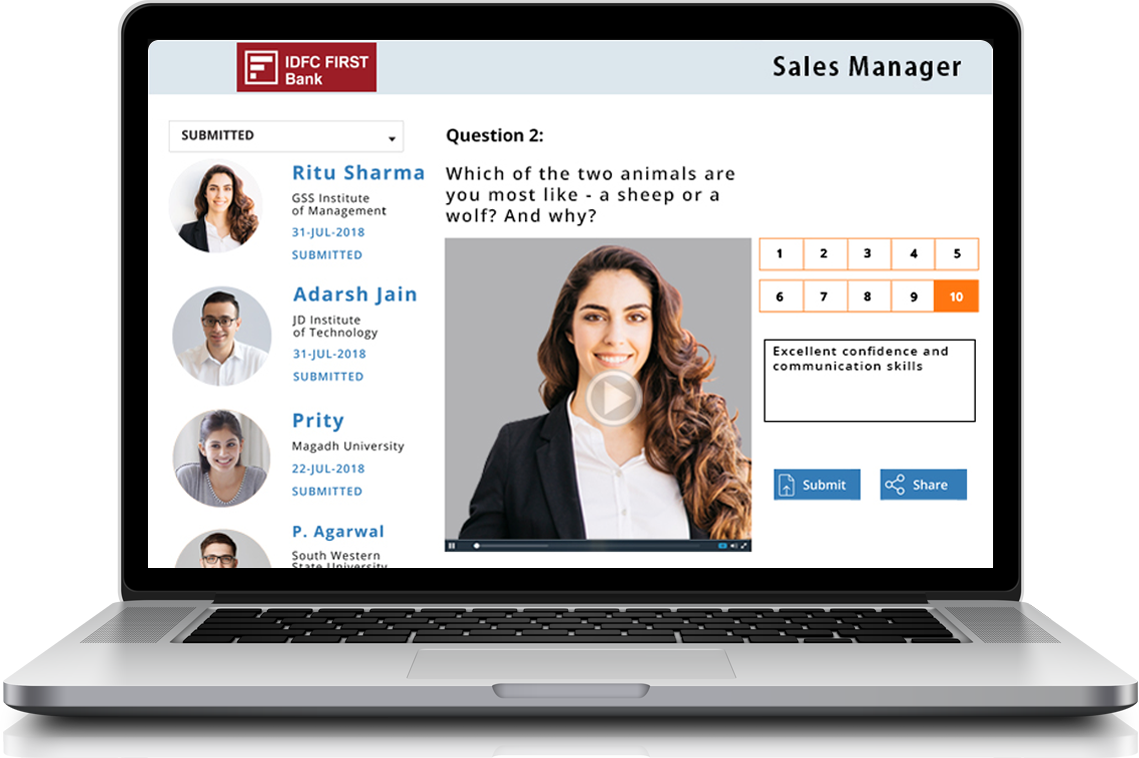 2. Reduced TAT
Autogram is a comprehensive and flexible software that offers something for every employer. It also delivers serious results, cutting time-to-fill by as much as 56 percent. That means you can move faster than your competitors and snap up top-tier candidates before anyone else even knows they're on the market.
3. Affordable for any size of business
Autogram caters to companies of all sizes. Are you running a major operation on the scale of Honda or Ikea? Then Autogram will work for you. Did your startup just get off the ground, and you have no idea how to go about implementing a video interviewing platform? Then Autogram is also for you.
4. Fully Customisable to every business need
Autogram is all about customisability. How many people do you need to interview? Doesn't matter. How in-depth do you want to go? That's up to you. Want to give candidates a lax experience, allowing them to rerecord interviews and take all the time they need? You can do that. Want to apply a little pressure and give candidates one shot and a limited amount of time? You can do that, too! Autogram is the perfect software for recruiters and employers who like to be in control of every step of the hiring process.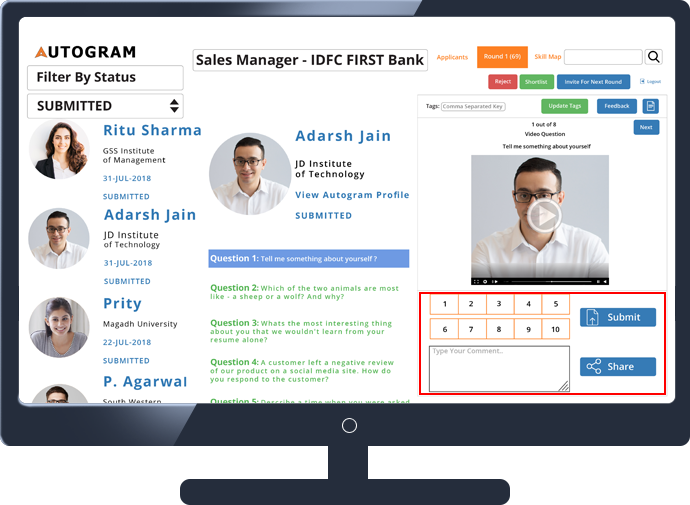 5. Easy to use, anytime, anywhere
A highly streamlined platform, Autogram is the minimalist's video interviewing solution. You create a question (or two, or however many you need), invite people to answer, and sit back while you wait for the video answers to roll in. Review the answers when you want, share them with other team members if you'd like – it's all up to you. If you want a no-nonsense, super-easy-to-use video interviewing platform, then you want Autogram.
6. Preloaded Interview Templates for every role
Autogram's biggest selling point is its massive library of preloaded interview templates and questions. No matter what position you're hiring for, Autogram can help you put together a revealing questionnaire in record time. We should also mention that Autogram's basic plan is absolutely free, meaning it's perfect for recruiters who want to test the video interviewing waters before committing.
7. Web, Mobile, Tablet
Autogram's mobile version gives candidates the ability to record video responses from their smartphones and tablets. Given that more people use their mobile devices to access the Internet than use their PCs, Autogram's mobile video interviewing solution is a great way to tap into the widest range of candidates.